Consultative Selling Skills
A 1-day masterclass where you will learn how to…
Unearth The

Needs & The Wants Of Your Buyers

So You Can Build Pain & Pleasure To Sell Your Solutions & Products

In The Right Way
Course Overview
You need to give your prospects and clients a good listening to!
Long gone are the days when you would turn up and just pitch your solutions and products to them.
Instead, you need to be able to understand their requirements and also build up a picture so that you know how your products and services can help them.
You can only achieve this through consultative selling.
Our "Consultative Selling Skills" workshop will provide you with the skills and techniques so you can unearth the needs and wants of your buyers so you can effectively work out a strategy on how to offer your products and services to them in the right way.
The course is an ISMM endorsed qualification and by taking a short multiple choice assessment back at work you can receive the "Consultative Sales Professional" certificate from the ISMM.
ISMM endorsement is the industry recognised benchmark for high quality sales training programmes. Supported by their quality assurance system, endorsement confirms that our training programme is professionally designed and delivered to exacting standards.

Who Will Benefit From The Course?
Field sales people
Business to business sales people
Sales people who have had no formal training on the subject before
Sales people who need a refresher and need to get "back to basics" and refocus their time and effort
New sales people
Client relationship managers
Account managers
Business development managers
Commercial managers
What Will You Gain From The Course?
Learn the importance of consultative selling in today's selling environment
Learn a consultative selling model to follow for your interactions
Learn how to unearth the needs and wants of your buyers
Learn how to build up the pain of their current situation
Learn how to present and offer your products and solutions in the right way
Learn how to build the value of what you offer
Learn how to articulate the pay-off
Learn how to handle resistance
Learn how to move the sale forward


Course Agenda
Introduction & Objectives
The Importance Of Consultative Selling
Here we take a look at the differences between traditional selling and consultative selling. What are we trying to achieve by using this approach and what are the key skills you will need to be a success at it? We will also take a look at the model that we will use throughout the day so you can remember the steps to follow to ensure that you cover everything.
Opening Your Sales Interaction With Impact
You need to open your interactions with a purpose and to signpost what will happen throughout your meeting. You'll learn how to build rapport in the right way and to position you and your company so the buyer will trust you. Get your opening right and everything you will do from thereon in will be viewed in the same way.
Unearth The Needs & Wants Of Your Buyer
Learn how to plan and prepare to ask the right questions at the right time. You'll understand the different types of questions to ask and how to probe deeper to unearth explicit and implicit needs. You'll learn how to complete a thorough fact find so you understand the buyers requirements in great detail.
Explore The Impacts Of Needs & Benefits
You'll learn how to establish the impacts, costs and pain of the current situation and will also learn how to involve your buyer in exploring the consequences of doing nothing. By building the pain/pleasure you will be creating the pathway so your products and services can be the only viable solution.
Discuss Options & Solutions
Within this session you will ensure that the buyer knows and understands the solutions that you offer and that you can deliver a compelling presentation. You'll be able to discuss initial ideas and concepts in a clear and precise way linking the benefits to your buyer's needs. You'll discover what the value equation is and how to use it the right way to build the value of your products and services.
Resolve Concerns Before They Become Obstacles
You'll learn how to plan for and handle resistance and objections before they even surface and how to build them into your sales interactions upfront. You'll be able to categorise them into doubts, misinformation and legitimate concerns and have a strategy on how to deal with each
Secure Commitment & Move The Sale Forward
With this final session you will learn how to secure commitment for the next meeting, the next step or for the close. You'll do this by ensuring that the buyer understandings his/her needs and the benefits that you provide and then you'll use transition statements to move the sale forward.
Close & Actions


Delegate Comments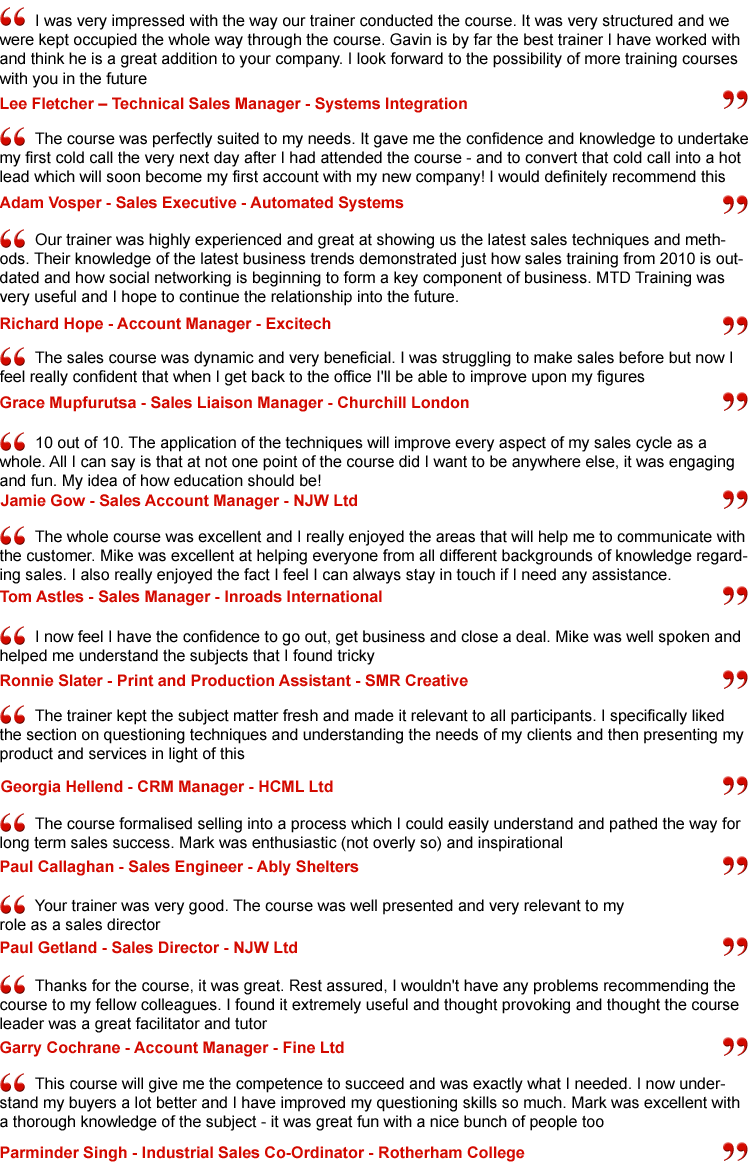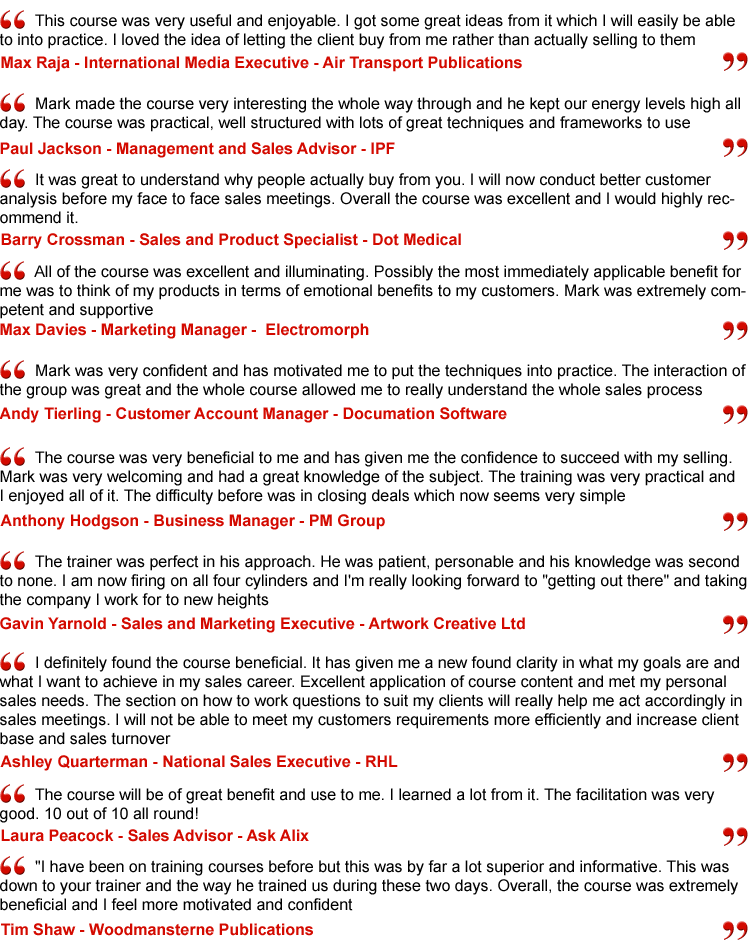 Your Course Leaders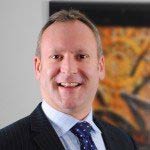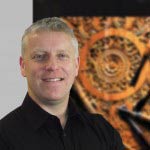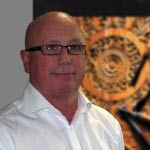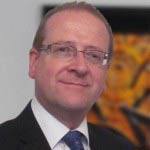 Feedback From The Last 72 Sales Professionals Who Attended This Course

Locations
Click on the images below to download more information about our training venues, including directions to these locations:


Start/Finish Times:
Start: 9.30
Finish: 16.30 – 17.00
Course Fee:
The Consultative Selling Skills Course is a formally endorsed qualification by the ISMM. This means that after completing the 1-day course, you can take a short, multiple choice online assessment back at work in order to be awarded with a formally endorsed Consultative Sales Professional Certificate for just a further £29 + VAT.
Course fees without ISMM endorsed qualification – £295 + vat
Course fees with ISMM endorsed qualification – £324 + vat



Included Within The Registration Fee:
Course Manual
Course Materials
Course Certificate
Buffet Lunch
Servings Of Tea and Coffee Throughout The Day
Unlimited email and telephone support from your trainer after the course
Booking Information & Questions
CALL US
0800 849 6732
EMAIL US
BOOKING FORM
Download our booking form, complete it and email it back to us to reserve your place on the course. We will then send you a confirmation letter, invoice and joining instructions. Alternatively you can pay by credit card.
Please complete our online form at the bottom of this page.


On-Going Support After The Workshop
After we have delivered your programme we do not just shake hands and take your money. We like to offer you some ongoing support.
Included within the cost are the following unique support options that are available to you.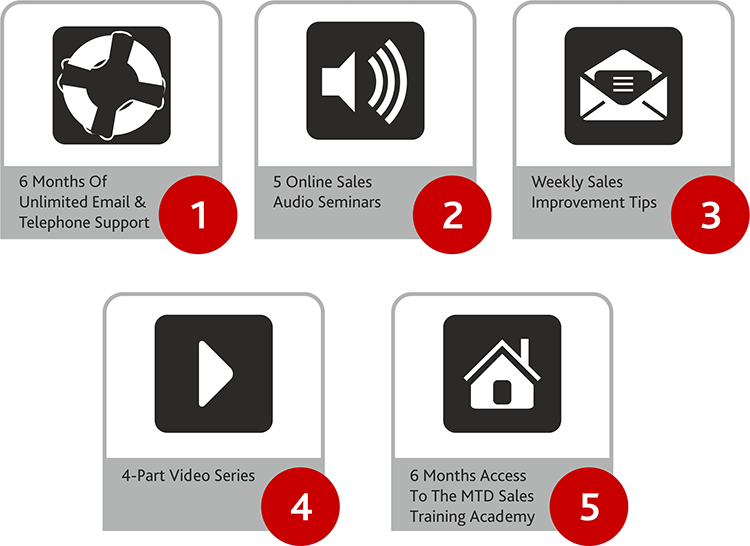 6 Months Of Unlimited Email & Telephone Support
During the programme and for 6 months thereafter you can email or call your programme leader as many times as you like for help and guidance.
You might be implementing a technique and have a question to ask about it or you might have some dfficult sales meetings coming up – no matter what the situation your course leader is on hand to help you.
After all, we appreciate that the learning event is just the start of the process!
Online Audio Seminars
We will also give you access to 5 x 25 minute audio sales seminars that you can listen to at your desktop through the internet or download as an MP3.
Each audio seminar has a short and snappy sales technique that will get you thinking about what you are doing and how you are doing it.
Weekly Sales Tips Newsletter
You can also have the option to sign up to our weekly "Sales Tip" newsletter that will be delivered to your inbox.
Each "Sales Tip" will cover topics such as:
Effective communications sells
Closing skills
Up-selling and cross-selling
Self-confidence
Buying signals
Questioning skills
Listening skills
4-Part Video Series
To keep you sharp straight after the training, you will be sent a 4-part video series.
Each video is less than four minutes long and cuts straight to the chase providing you with actionable tips and techniques that you can use at work.
6 Months Access To The MTD Sales Academy
All delegates receive 6 months access to our online sales training academy (https://www.mtdsalesacademy.com) that has over 80 videos, audios, cheat sheets and guides to help them embed the learning back at work and they can dip in and out of the academy when they need to.
Booking Information & Questions
CALL US
0800 849 6732
EMAIL US
BOOKING FORM
Download our booking form, complete it and email it back to us to reserve your place on the course. We will then send you a confirmation letter, invoice and joining instructions. Alternatively you can pay by credit card.
Please complete our online form at the bottom of this page.